There are many things at which the 'The Vampire Diaries' excels. Suspense, for one. Weaving tangled webs is another. Break neck pacing, as well. Actually, neck breaking in general, I suppose. But what the show really excels at is reinvention.
It's something that's been discussed heavily in terms of character development, but it's mostly been limited to Damon's personal journey and the journey he is on with Stefan as those are the two most obvious examples. When Caroline became a vampire in season two, and again when Elena became a vampire at the end of the third season, are two more examples of how the show is constantly reinventing itself. Granted, Elena's transformation had a larger rippling effect in terms of storytelling, but Caroline's transformation into a vampire completely changed her character. She went from an "insecure, neurotic, control freak" that was more grating than anything, to the moral compass and one of the most beloved characters on the show.
Despite my constantly growing affection for Caroline, my favorite reinvention came in season three when Stefan reverted back to his Ripper persona. As the Ripper Paul Wesley was able to play with a whole new set of emotions. His character had done a complete 180. For two years he'd been playing the brooding good guy to Damon's (mostly) bad guy, but with one drop of human blood he finally had the chance to strut around as a bad ass. Wesley has mentioned on several different occasions how much he enjoyed those episodes and how if he had it his way, that would be the character he'd play all the time. And it looks like his wish might be coming true.
Aaaaand we're back! After what seemed like a five year hiatus as opposed to five months, the Mystic Falls gang is back kicking ass and taking names and making out in the woods.

One of the strengths of this show has always been its ability to hit the ground running. Hell, this show never slows down, not even for bathroom breaks. I don't know how the writers do it, but I'm grateful for all of their hard work, because in tonight's premiere they had to cover a lot of ground in very little time.

Elena, having died with Damon's vampire blood in her system in the season three finale, is now in transition. And yes, I would like to point out that Damon is basically Elena's sire, but this is the one and only time I will do this because sire bonds, when they happen, as we all know, are kind of fucking crazy. And because sires are basically the parents of baby vampires and I really don't want to get into how that would throw the entire love triangle into a whole other dimension of weird.

So Elena is in transition, and, of course, the Salvatore brothers disagree – as they do most of the time – on the best course of action.

Click the link to read more.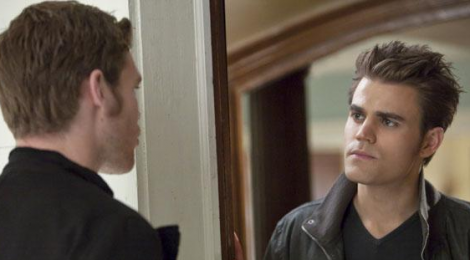 "How many times do I have to tell you, Elena? Stop trusting vampires!"
As we learned when Caroline was turned in season two, when you become a vampire the most prominent parts of your personality become magnified. Caroline became more neurotic as a result of her transition. And though most people would say his distaste for vampires was multiplied, I think Alaric became more of a protector too. I mean, sure, he's driven by his hate for vampires (does that extend to all supernatural creatures? Like are werewolves and hybrids included in his hate?), but the flip side of that has got to be a desire to see innocent people live. There were times tonight when the viewers could see Alaric's frustrations with Elena because she willingly threw herself into another dangerous situation.
He spent so many hours teaching her to protect herself against vampires, training her to be a vampire slaying teenager, telling her not to trust them. And yet she continues to accept their words at face value as if they're not evil creatures driven by bloodlust.
Everything Alaric told her in tonight's episode was true. She needs to stop being so trusting. She needs to stop letting her emotions get the best of her all of the time. Because she won't survive much longer if she does.
And no, Elena isn't stupid. She doesn't just go along believing everything people say. But she does tend to ignore the fact that people are inherently evil by nature. She trusted Alaric tonight, knowing he was Evilaric who hates vampires, that he'd let Caroline go as long as she came to the school. She trusted him because she knew Human Alaric and she was unable to separate him from Evilaric. She trusted - to an extent - Esther when she first met her and bound the Originals circle. She trusted Elijah, too.
It doesn't matter that she's wary of these people - it matters that even though she's wary she still puts her trust in them to an extent. She wants to see the good in all people. But no one is good all the time. And it's possible that no one is evil all the time either. It's possible for those who commit evil acts to come back from them - to change, to start over. Damon Salvatore is a walking, talking, leather-jacket wearing example of that.
And I think that's one of the most important lessons from this show. It's that people might do evil things - but if you only look at those instances and refuse to see the rest, then you're going to miss quite a bit. You're going to be sorely misinformed. You're not going to see who they really are. This show is about family and it's about forgiveness. This show teaches us that we cannot judge ourselves or anyone else by past transgressions. Because we are all capable of change and we are all capable of love, and as long as we have our family, we can learn to make the right choices here and now.
So call me crazy, but I still have hope that Evilaric can be helped. There were a few points tonight - and yes, I'm probably blinded  by love for Matt Davis and the character so I'm going to read a hell of a lot into different things from tonight's episode, but whatever - there were times tonight where it seemed that Evilaric wasn't as gone as we thought. Yes, he's evil. Yes, he wants to kill all the vampires. Yes to all these things. But after sitting through three seasons of this show I don't take anything at face value anymore. There's always an underlying reason or force driving people and their actions.
Damon is driven by love. He was driven by his love for Katherine in the first season and he didn't care what he did or who he hurt, as long as it meant he could get to her. And we've seen that same passion and love and loyalty these past two seasons as it's developed for Elena. His love for her drives his actions now. He wants to be a better man so he's worthy of her love.
Stefan is driven by guilt and his own fear of the monster within. He knows what he's capable of, and so he does everything in his power to limit and deprive himself of things like human blood because he knows what will happen if he doesn't. He's carried the guilt of forcing his brother to become a vampire for a century and a half. He carries the guilt of knowing all of the innocent people he killed. And that drives him to be a better man.
And Klaus - poor, poor Klaus - he's driven by loneliness. All he wants is a family, a family who loves him and wants to stay with him and have fun with him  - not one who deserts him or wants him dead. So he decided to create his own family - the hybrids. But unlike the Salvatores, he's yet to find that family and so he's been unable to redeem himself.
Everyone is driven by something. And I think Alaric can be saved. I know that it would never happen quickly and it would certainly not be easy, but I don't think that all of a sudden we've got one character who is absolutely pure evil and has no weaknesses. There is something there that can be used to save him. We just don't know what it is yet.
On 'Buffy the Vampire Slayer' Willow went apocalyptically evil at the end of season six after Warren's stray bullet killed Tara. She flayed him alive and hurt her friends, but that still wasn't enough to ease her pain. The only thing that could get through to her was the love and friendship of her lifelong best friend, Xander. And I see no reason why Alaric - who's turned out to be this show's best villain since he's a character we got to know and grew to love long before he became a villain - should be any different.
If I had to put my money on it - I'd say it's the feeling of being needed. The feeling that someone wants and needs him. I also think it's his own guilt for allowing himself to get to know Damon and Stefan and Caroline - get to know these vampires and to like these vampires. He was a vampire hunter and he allowed himself to see these people and get to know these people and he saw that there's good in them too. That's why I think - and hope - that the writers don't just let him bite the dust. There's a story there. And in the right hands, it could be a great story.
And knowing that Alaric's life is tied to Elena's life - I think that's important. He made it seem like the only reason he cared whether or not Elena lived or died was because he didn't want to die too. And while that's certainly the most important reason right now,  I think there was more to it. When he yelled at her to stop slicing herself open, it looked to me (here I go reading too much into everything again) like there were real feelings behind those words. Before he was turned Human Alaric genuinely cared for Elena. And somewhere inside Evilaric, Human Alaric lives and dwells. Somewhere in there are those feelings and that love for both her and Jeremy. I just hope we get to see it. Because conflicted vampires are my favorite vampires.
But there was a lot of crap that happened in tonight's episode.
In the finale, Damon and Stefan really start to love each other. In this situation, heartbreak and failure and triumph brings them together.
To clarify: The Salvatores are my favorite brothers. But I really like the Kinsellas, too.