Warning - the following contains massive spoilers regarding tonight's episode of 'Sons of Anarchy' and if you haven't seen it yet, I suggest you turn around and hightail it to your nearest TV or computer and watch it. Then come back here and join the discussion.
Last year when Kurt Sutter killed Piney Winston (Bill Lucking) with a shotgun blast fired by Clay (Ron Perlman), I was ready. That moment had been building for quite some time - not even just that season, but truthfully, since the series premiere.
Piermont "Piney" Winston was John Teller's friend, not Clay's and as Clay slowly but surely off-ed the rest of the First 9 (including JT), Piney's obvious disapproval of the direction in which the Club was headed spelled certain doom for the gruff old man.
And one could also argue that the grisly death of Winston the Younger in tonight's episode is one that has also been brewing since the first season.
Since Opie (Ryan Hurst) was released from jail just prior to the start of the series, there'd been a cloud of uncertainty following the man formerly known as Harry "Opie" Winston. His reluctance to join in Club tasks or finish Club business was a problem that plagued him during the entire first season. As naive fans, we thought his reluctance was the result of his wife Donna (Sprague Grayden) urging him to leave SAMCRO as the Club was nothing but trouble and the reason he'd been in prison to start with. But it's possible that his five year stint in prison sobered him up and led him to the truth: SAMCRO was a toxic poison.
But even if Opie realized this prior to the end of the first season, I think the true beginning to his undoing came when Tig, believing he was killing Opie - whom he'd been led to believe was a rat - shot Donna through the back windshield of Opie's pickup truck.
Opie never fully recovered from Donna's death, despite rushing into a marriage with porn star Lyla. But that too crumbled once he sobered up and realized that Lyla was not Donna, she would never be Donna, and marrying her would not make the pain of losing Donna hurt any less.
Opie carried the burden of losing Donna - after all, his association with SAMCRO is the reason she died - with him every single day, and though he hid it well under that bushy beard of his, it slowly gnawed away at his insides. If he'd been a surly, unhappy man at the start of the series, her death magnified the intensity of the situation ten fold. Add to that the death of his father at the hands of the man also responsible for ordering the hit that ultimately killed Donna, and you've got a man who feels he's got nothing left to live for.
Last week when Opie handed Lyla that envelope of cash and asked her to watch the kids for a little while, we all thought it was because he was finally joining Jax and the boys at the table. He showed up just in time to punch Roosevelt and be carted off to jail with Jax, Chibs and Tig. But it's clear now that Opie was already dead inside.
Now, I doubt Opie had any inclination of what would transpire behind those prison walls or inside that dark, dank room with those four other men, but I have a feeling that he didn't care what happened to him. Losing Donna and losing his father meant he'd lost himself and any reason to go on living.
After Jax came clean to Opie about everything that happened at the end of last season - why he stopped him from killing Clay, the RICO case, the guns - and after he explained his meeting with Pope in which he was ordered to choose one of the four men inside to be sent to their death, I think Opie knew full well what his choice would be.
Tig was out for obvious reasons - Pope wanted him alive so he could punish him as he saw fit for the rest of his life -, Chibs literally had nothing to do with the situation at hand, and Jax had a wife and two small children - not to mention a club full of horny and quite possibly very stupid misfits (which I'll get to in a second) to run. So even though Opie told him that he'd made the wrong choice when he chose between killing Clay or saving the club, it's possible he knew that he'd never walk out of that prison.
I think it's fitting and true to character that Opie went out swinging. Ryan Hurst played that scene (and the last few seasons) very well, and he sold Opie's despair beautifully, even if he only spoke about seven words per episode. But seeing the helpless Jax and Chibs banging on the glass as they watched their brother die by a pipe to the head, was unbearable to watch. In fact, I watched that entire scene behind a pillow, clutched so tightly that my knuckles were turning white.
I've never understood the madness of Kurt Sutter's brain, and after tonight, I never want to. He knows whose deaths will hit the hardest and he pulls the trigger with ease. But I'll never understand his reluctance to kill someone as deserving of death as Clay Morrow, but he'll off beloved characters like Donna, Piney and Opie without so much as a warning (OK, strike that - we saw the Piney death coming a season away).
The fact that the entire Winston family has met a grisly and untimely death because of Clay's actions - no matter how direct or indirect they might be - sickens me. But at the same time, I understand Opie's willingness to march to his death. I don't think he sacrificed himself for the club, not even to save his best friend. No, I think he saw a way out of his tragic life and he took it. Saving Jax and his brothers was just happenstance.
Some stray observations (because I'm about to lose it … again):
Pissed off that Tara didn't put her on the visitation list at the hospital day care, Gemma (Katey Sagal) tried to undermine Tara (Maggie Siff) by going straight to the person Tara hates the most - Wendy (Drea de Matteo). Concocting a lie about Tara self-medicating, Gemma urges Wendy to go after custody of Abel. But Tara's smarter than Gemma, she always has been, and she sees through the entire thing. Poor Wendy, always getting fucked by Gemma.
The Clay and Juice bromance continued tonight as Clay basically begs Juice to tell him where Gemma's been spending her nights. A reluctant Juice takes him to Nero's place and Clay apparently has sex with Ashley Tisdale (vomit), while Juice the Puerto Rican Lovah gets it on with Nero's madam. Gemma, enraged that Clay showed up to Nero's place, busts in to Clay's room and beats the shit out of Tisdale (yay!), and then, what do you know, ater that night, the cops bust the place, taking both Nero and Gemma into custody. What a coincidence!
After Opie dies, Jax tells Pope that he'll get him the money (part of Pope's deal was that he got half of the cash - about $100,00 a month - the Sons brought in from hauling the cocaine for the Galindo cartel), but that he also wants Tig to walk with him and Chibs. After he does what Jax needs him to do, Jax tells Pope that he can do the same to Tig that he already did to Dawn. A chilling thought - one I'm sure won't actually come to fruition, but a chilling thought by a man who just had to watch his best friend die because his brother didn't think before he acted.
What did you guys think? Were you shocked and sad to see Opie bite the dust? Do you think Jax would really give Tig up so easily? Do you wish Theo Rossi would just spend an entire episode shirtless already?
Note: Photo courtesy of FX.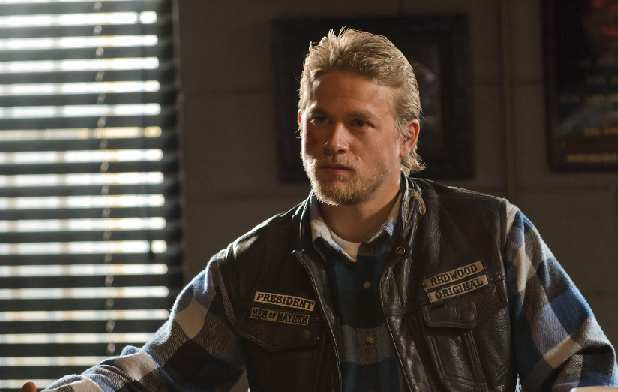 It's been nine long months since Jax Teller and the boys of SAMCRO last graced our televisions and I don't know about you, but it's been a long, cold nine months.
I've mourned the loss of Piney (William Lucking), I've felt the rage of Opie (Ryan Hurst), and I've forgiven Kurt Sutter for ever putting my dear, sweet, perfect Juice (Theo Rossi) into such a dire situation that he thought the only way out was to hang himself. Thank God for those dry California weather conditions.
But tonight the show returned for its fifth season, and though the hour-and-a-half episode started out rather slow in 'SOA' terms, I think it would be wrong to say that it was in any way, shape or form a lackluster episode.
Kurt Sutter has always been a master storyteller whether you want to believe it or not. And although I criticized him last season for not killing off Clay (Ron Perlman) when he had the perfect opportunity, I do think that he's set up another fantastic season.
Gemma (Katey Sagal) is still reeling from Clay's beating and the fallout of their obvious subsequent separation. Opie is still mourning in his own quiet angry way for his dearly departed father. And Jax (Charlie Hunnam) is doing the best he can to run a club that he never really wanted to run in the first place. Add to that a member's daughter burned alive before his eyes, a very convincing, although out of character, pimp portrayed by Jimmy Smits, and more trouble than the Sons can possibly deal with right now, and you've got the makings of yet another drama-filled, adrenaline-fueled season.
The show begins with its signature montage featuring a gun run, Gemma sleeping with Smit's Nero, and a stone-faced Tara smoking a joint in the tub with a gun nearby. It all ends with the Niners (wearing completely inappropriate clothing for this kind of operation) chasing down and burning the shipment of guns that SAMCRO is transporting, nearly killing Filthy Phil (Christopher Reed) in the process.
What follows is a series of incredibly calculated and cold maneuvers by Damon Pope (Harold Perrineau), the father of the woman Tig killed last season in his attempt to get to Laroy. After dispatching Laroy offscreen, Pope, an impenetrable businessman of uncertain strength and influence, sets up a series of events with the sole purpose of showing Jax and SAMCRO who's calling the shots.
He dispatches four witnesses who identify Jax, Chibs and Tig as murderers and in what is perhaps the most brutal and hard to watch scene since Gemma's rape in season two, he makes Tig watch as he burns his daughter, Dawn, alive. If this was the kind of show that Emmy viewers actually knew existed, I'd say that Kim Coates turned in a performance sure to put him on the Emmy radar, but I've long since given up hope that the voters would sit up and take notice of this gritty drama and the wonderful performances turned in by its actors.
The rest of the episode is taken up by several plot threads that, at times, seem to be too many too handle.
There's still the subject of Clay, who's now relegated himself (however unintentional it may have been) to the Piney role, right down to the oxygen tubes and seat at the end of the table. But what Clay lacks in physical strength he makes up in cunning and skillful manipulation as he admits to the club that he's responsible for Piney's death. The catch is that he blames it on self-defense and earns the pity of the rest of the men who still don't know the truth about their one-time leader. The most hurtful of this betrayal is the blind acceptance by Juice who doesn't even stop to think for a second before choosing to believe Clay is innocent. But that might be my own fondness for Juice coming through.
There's also the subject of Gemma's new pal Nero the pimp  – or companionator as he calls himself. It's startling to see Smits in a role so brazenly different than what he normally plays (and as a diehard 'West Wing' fan, it's downright absurd to see him as anyone but clean and polished politician and President of the United States Matt Santos), but the role seems to mold to him and it's easy to see why Sutter cast him in the first place. Though in the beginning he seemed to be just a distraction for Gemma, he comes through at the end of the episode when he takes Jax and Chibs in to hiding.
Underlying the entire episode is a current of mistrust and ferocity between old queen Gemma and new queen Tara (Maggie Siff). And although right now it's a disagreement over whether or not Abel and Thomas should go to the hospital's daycare or whether they should be raised by their own (meaning Gemma and the likes of SAMCRO), it's still enough of a problem to cause further enlarge the rift between the two women in Jax's life. I foresee this becoming a major plot point that continues through the rest of the season. And though Tara asked Jax not to run from the cops at the end of the episode, he still listens to Gemma and accepts her offer of help by hiding at Nero's. Gemma: 1 Tara: 0.
Jax still has the shaky-IRA story with which to deal, and he's still under the thumb of the CIA, but it all has the making of yet another great season of 'Sons of Anarchy.' And from the looks of next week's previews, Sutter has no intention of slowing down.
What did you guys think? Did the episode quench your nine-month long thirst for biker drama or did it leave you a little empty inside?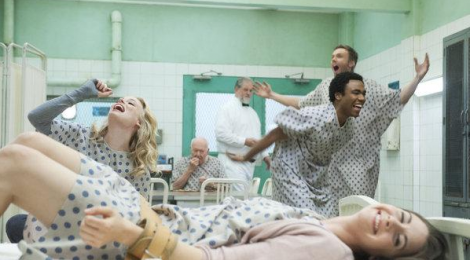 The Critics' Choice Award nominations were released this morning, and if I were a less paranoid person I wouldn't currently be scouring my home for bugs and other weird spy equipment since the nominees are almost 100% the people I myself would have chosen.

This is only the second year of the Critics' Choice Awards – and while they aren't as prestigious as Emmys or Peabodys or SAGs or even those drunk Golden Globes – they're still awards worthy of being mentioned. Why? Because they come from a group of people that actors and writers desperately pretend they don't actually care about, but deep down hope to impress – the critics.

I have no doubt that if television critics ran the Emmys and were the only people allowed to vote, Katey Sagal would have an Emmy right now. I would put money on 'Friday Night Lights' having more than just writing and acting Emmys and 'Buffy the Vampire Slayer' wouldn't be topping Emmy snubs list for the rest of time. But that isn't the case. Which is why I'm happy the critics said, "Fuck you guys, we're starting our own team."

So let's check out the nominees and dissect the good, the amazing and the holy shit, yes! First up, drama!
Bad shit happens to greedy whores.
Gemma, Sons of Anarchy